Try a sauna for free!
Visit our showroom in Gothenburg, see different sauna models!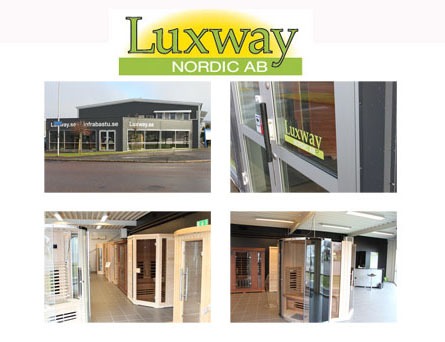 To book a test sauna call 031-899080.
Or send an email to info@luxway.se

Try a sauna for free with us!
At Luxway, you who are interested in infrared sauna can try for free. You will have a room where an Infrabastu Glossy for 3 people is installed and ready for use. In the room there is also a shower cubicle where you can take a shower after the sauna. After you have booked your visit, you will have the space available for an hour. When you come to us need to bring 2 bath towels, one that you sit on in the sauna and one for the shower, max 2 people at a time. Here you can see several different models, as well as ask the staff about the different benefits of Infrared heat. In our store you will find both traditional sauna, but also a wide range of infrared saunas and infrared heat mattresses and patio heaters or "do it yourself" kits if you want to convert an old sauna to an infrared sauna .
Welcome to Bastuspecialisten.
The sauna shop is located at

The data path 43 A. 436 32 Askim. Gothenburg
Phone 031-89 90 80
info@luxway.se