Infrared Sauna Select 3 people - Energy efficient sauna - A++ - Infrared full spectrum A.B.C deep heat + Carbon Wave
Infrared-sauna for 3 people
Size: 1630x1050x1900 mm
Wood: White painted outside, Hemlock inside
Heating system: Mica Wave + IR-Vitalight
Delivery: Currently sold out Available from February pre-order recommended
Description
Select Infrared Sauna for 3 people
Sauna Select is, as the name says, our very specially selected sauna series. The outside is beautifully white lacquered with narrow decorative ribs that follow both the outside and inside of the sauna. On the inside, the black ribs break the bright hemlock leaves and give an exciting impression on the sauna's tree details. The black decorative ribs sit at 19 cm apart and with this stripe the sauna gives a solid sense of wood crafts.
Infrared sauna with quality and unique design.
The Select Sauna has a lovely sitting bench with arched surface and generous depth and you lean back comfortably against the ergonomic backrests. The lighting consists of our largest and most effective color therapy lamp. It is of the same design as our professional color therapy series which we offer among our optional products. The Select sauna is uniquely equipped with marbled composite flooring that has integrated heating. The floor is both beautiful and very easy to clean. The handle is metal on the outside and wood on the inside with slightly rounded corners. Sauna which has a combination of the two heating systems Mica Wave and IR-Vitalight, which is the latest heating systems in Infrared technology. If you want to enjoy music, there is Bluetooth, USB and radio to choose from.  
Infrared saunas are energy efficient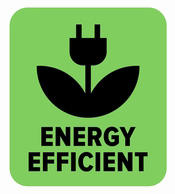 ---
Sauna SPECIFICATION
Sauna outer dimensions:
Length: 1630 mm
Height: 1900 mm
Depth: 1050 mm

Material: Exterior; white painted with black decor ribs in painted hemlock
Inside; Untreated hemlock with black decorative ribs
Front in clear glass, heat-resistant safety glass 8mm.
Control panel: located on the inside.
Timer control up to 90 min
Temperature control up to 65 0 C
Power control select between 100%, 70%, 50%, 30%
Sound System: Speakers
Radio, USB and Bluetooth function
Lighting inside: Ceilings; professional color and light therapy 60x60cm,
on / off control on the control panel color selection remote control.
Under bench; on / off and color selection control on the control panel
Exterior lighting: No.
Other: Ergonomic in built-in backrest and specially designed seat bench with recess
SAUNA HEATING-SPECIFICATION:
Heating system: Combination of
IR Vitalight; back and front, Number of 5 pcs.
Mica Wave: pages, Quantity 2 pcs.
Wavelength 5–12 µm
Marbled composite floor with integrated heating
Total power: 2655W
13A. 230V. 50Hz
Electrical connection : Standard plug
230V grounded electrical outlet, cable length about 3 m comes from ceiling
Low EMF: Read more about EMF
 
Installation and installation:
An extra 10 cm in ceiling height is required for installation, two people are needed for installation.
Data sheet
Genus

Unisex

Sauna Size

Sauna for 3 to 4 people

Energy class

A++

Dimensions (mm)

Width: 1630, Depth: 1050, Height: 1900

Wood species

Canadian Hemlock, White painted exterior

Heating

Infrared heater Mica Wave + infrared full spectrum heater

Effect

2655W, 230V

Lighting

Lighting lamp (under bench) + Color therapy (stepless color and effect setting, 21 different programs)

Stereo

Bluetooth + USB + AUX + Radio