Description
Vitaelight Heater for installation
Our full-spectrum heaters are also called Redglass, Philips Vitaelight or full-spectrum reflectors. This type provides a more intense heat and can be combined with our panel kits.
The Vitaelight heaters produce a wide range of infrared waves, in bands A, B and C (Near, mid and far infrared), this means that the heat penetrates deeper into the body and gives an intense feeling of warmth in the depths and can provide relief for pain and ailments in muscle knots, whiplash to normalize the function of the nervous system.
However, a sauna equipped with only vitaelight reflectors can be perceived as more intense heat and not have the same even IR heat as, for example, Mica Wave panels. Therefore, it is common to combine these two types of IR heaters for an optimal sauna experience.

The heaters are made up of a reflector in polished aluminum, and a fluorescent tube in quartz with tungsten wick, in front of the reflector is mounted a red ceramic glass, which protects the fluorescent tube and filters out most of the visible light, but lets in infrared waves and red light.
If you use Vitaelight heaters behind the back, side or for calves, do not forget to put a backrest in front. We do not recommend that the back is closer than 4cm from the front of a Vitaelight, as it simply gets too hot. The backrest should be sparse and never cover more than 50% of the heating surface, nor should the backrest sit closer than 2cm from the glass of the Vitaelight heater.
Infrared saunas are energy efficient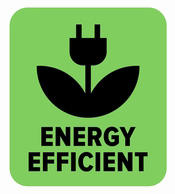 Specifications
Outer dimensions : L: 600mm, W: 180mm D: 40mm
Installation dimensions: L: 605mm, W: 185mm, D: 50mm
Length of connection cable: 500mm
Power: 350W
Voltage: 230V, 50Hz
Humidity tolerance: 85%
Data sheet
Energy class

A++

Genus

Unisex